Profile of Central Agricultural University Imphal
The Central Agricultural University (CAU) was established under Department of Agricultural Research and Education (DARE) on 26th January, 1993 by the Central Agricultural University Act, 1992 (No.40 of 1992) of parliament with its headquarters at Imphal, Manipur. It is a fully residential university covering all the North-East Hill states under its jurisdiction except Assam. Like other Agricultural Universities of India, the CAU also has integrated programmes of teaching, research and extension education.
To impart education in different branches agriculture and of allied sciences as it may deem fit To further the advancement of learning and prosecution of research in agriculture and allied sciences
To undertake programmes of extension education in the states under its area of jurisdiction.
To undertake such other activities as it may determine from time to time.
Keeping the mandate in view, the mission of the University is to be a Centre of Excellence in in Teaching, Research and Extension Education in the fields of Agriculture and Allied Sciences.
To produce globally competitive graduates and postgraduates in agriculture and allied sciences.
To develop sustainable and profitable farming systems for improving productivity, production and profitability in agriculture and allied sectors.
To educate the extension functionaries for effective dissemination of agrotechnologies to the farmers, entrepreneurs and agro-industries.
To be an important link in the chain for transforming agriculture and allied vocations into profitable enterprises and ensuring food and nutritional security to the people of NEH region.
The University offers 9 Undergraduate, 45 Masters and 25 Ph. D. Degree Programmes in different subjects/disciplines of Agriculture & Allied Sciences through its 13 constituent colleges located in seven states of the NE Region of India.
Faculty of Agriculture
Faculty of Horticulture
Faculty of Community Science
Faculty of Fisheries
Faculty of Agril. Engg. & Food Tech.
Faculty of Vety. Sciences & AH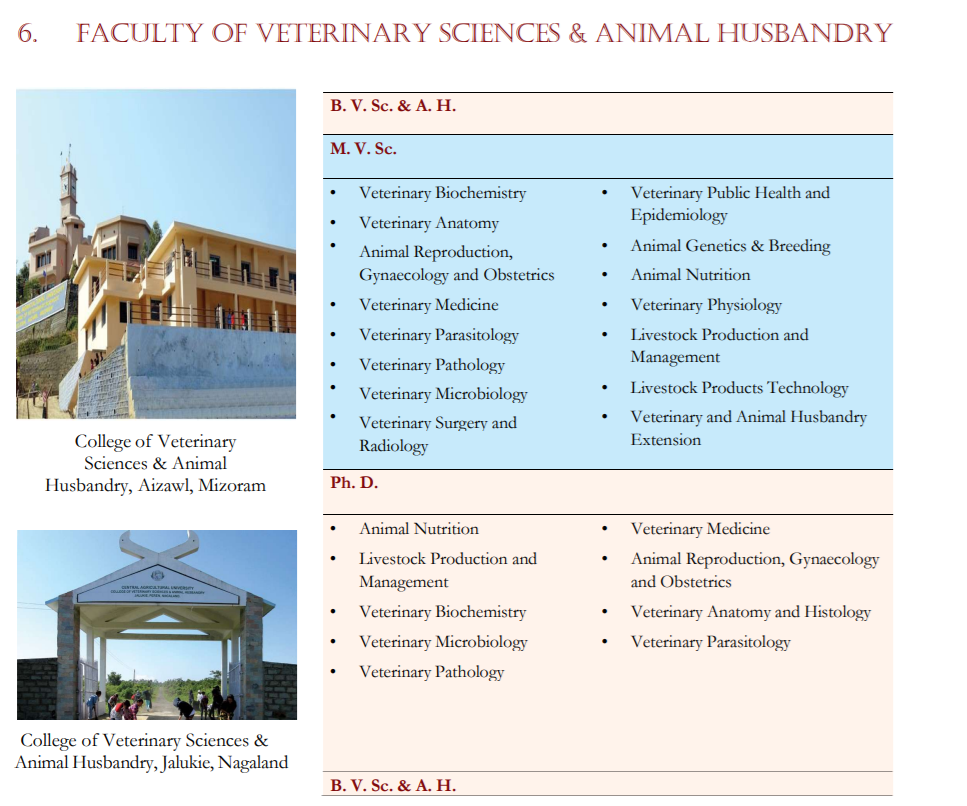 For more details on the University Profile Download our brochure