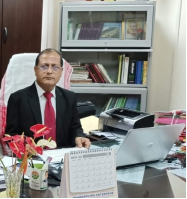 The College of Agriculture, Central Agricultural University, Pasighat was established on 26th November, 2013 as one of the constituent colleges of Central Agricultural University, Imphal, Manipur. The beautiful campus of College of Agriculture comprising of 86 acres of land is located on the picturesque bank of mighty river, Siang at the foothills of Eastern Himalayas, Pasighat. The various infrastructures of college viz. academic block, administrative block, hostel for girls and boys, transit hostel, etc. are under construction and will be completed very soon.
The College of Agriculture, Pasighat, impart education in different branches of Agriculture and its allied sciences. The College of Agriculture started its first flagship academic programme i.e., 4-year B.Sc. (Hons) Agriculture programme from academic session 2013-14 with intake capacity of 20 students. The course curriculum and syllabi are based on the model academic regulations and syllabi as proposed by the 5th Dean Committee of Indian Council of Agricultural Research (ICAR), New Delhi.
While designing curriculum, outmost care has been taken to consider the global development in Science & Technology to equip graduates to meet new challenges thrown open as a result of economic globalization and climate changes and preparing farmers for emerging opportunities at national and international level.
A total of 20 students from 02 passed out batches for B.Sc. (Agriculture) degree programme. On an average, 90 per cent of students secure first class in their final examination which is a moral boost and an achievement for all.
Students of this college have shown outstanding performance in the national as well as state level examinations. In 2018 and 2020, the University/college ranked 2nd in terms of ICAR –JRF holder.
The year 2021 is going to be more challenging for all of us. The honourable Prime Minister of India has a dream of doubling Framers' income by 2022 and we have to play our part seriously and sincerely to make the dream a reality.