Message from the Desk of Dean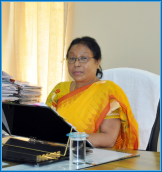 The College of Agriculture, Imphal is the oldest constituent college, founded in 1979, which in 1993 became the first constituent college of CAU, Imphal. It is the torch bearer of Higher Education and Innovative ideas in Agriculture and allied fields.
Here at COA, Imphal, we strive to provide the best to the students, be it in teaching, research, co-curricular activities or infrastructural facilities. Till date from the college around 26 Number of JRF students (since 2013), 2 number of JRF pass out last year. We have 1488 students (1140 = Passed out, 384 = current student) and 243 PG students (since 2015-16, 66 current students and 173 pass out from this college and 29 Ph.D student are produced.
The College of Agriculture developed 31 technologies under different areas crop improvement (06), crop production (07), crop protection (06), animal husbandry (01), farm machinery (08) and post harvest technology (03) form 1993 to till date.
The aim is to train the students to be skilled human resource who in the future shall contribute in remapping a new agricultural era post the green revolution that promises sustainable agriculture, maximum crop production and food security to all.
Further, we emphasize on transfer of skill and technology to the farmers who are the backbone of food production, so as to equip them with the latest development in farming techniques. Therefore, as a part of the agricultural extension activities workshops, training programs, etc, are organized to extend service and knowledge to the farmers. Overall, we try to create an environment that is conducive to teaching, research and extension activities.
I am fortunate to be a part of this prestigious COA family which has consistently guided me in my efforts to elevate the success of the College. The diligent faculty, staff of the College and students are the pillars of our success story. I hope to carry forward the rich tradition of the College by being an administrator who facilitates the progress and development of the College.